Revolutionising the concept of an oceanside retreat, underwater hotels intensify the idyllic notion of crystal clear waters tickling white, sandy shorelines. The ultimate in spa-style relaxation, if you wake in the night you never know what you may find swimming past your window.
An increasing number of luxury hotel chains now provide an underwater experience within their hotels on firm ground, including the Radisson and the Hilton. However, the best hotels which are completely submerged are frequently designed to incorporate extensive luxury and can easily cost tens of thousands per night. Underwater hotels are becoming increasingly more affordable than they once were though, as they lap onto the radar of more seasoned travellers and luxury-seekers wanting something a little extra from their latest retreat.
Luxurious Underwater Hotel Experiences
The InterContinental Shanghai Wonderland in China cost an impressive $300 million to build and is located about 20 miles from the centre of the city. While upper level rooms have balconies and view of waterfalls, the hotel offers two subterranean levels which take an 'ocean view' room to a whole other level. A stay here would set you back $15,000 per night though!
Lover's Deep Submarine by Oliver's Travels is located in the waters around some of the Caribbean islands, including St Lucia. At a mind-boggling $230,000 per night, this underwater hotel can be moored at different locations around the Caribbean and the interior can also be changed depending on the couple's requirements. The monster price tag for a stay here gets you a captain, chef and butler, along with speedboat transfers. There are also "addon options" for helicopter transfers, champagne breakfasts and a cheeky two-person shower.
Most Famous Underwater Hotels
It will probably not surprise you to know that Dubai has its fair share of underwater retreats. One of the most famous hotels in the world, The Atlantis on the Palm in the glittering Emirati city has underwater rooms which look into the hotel's very own aquarium, known as the Ambassador Lagoon. Filled with over 65,000 sea creatures, you can stay in suites such as 'Poseidon' for an average cost of $8,200 per night.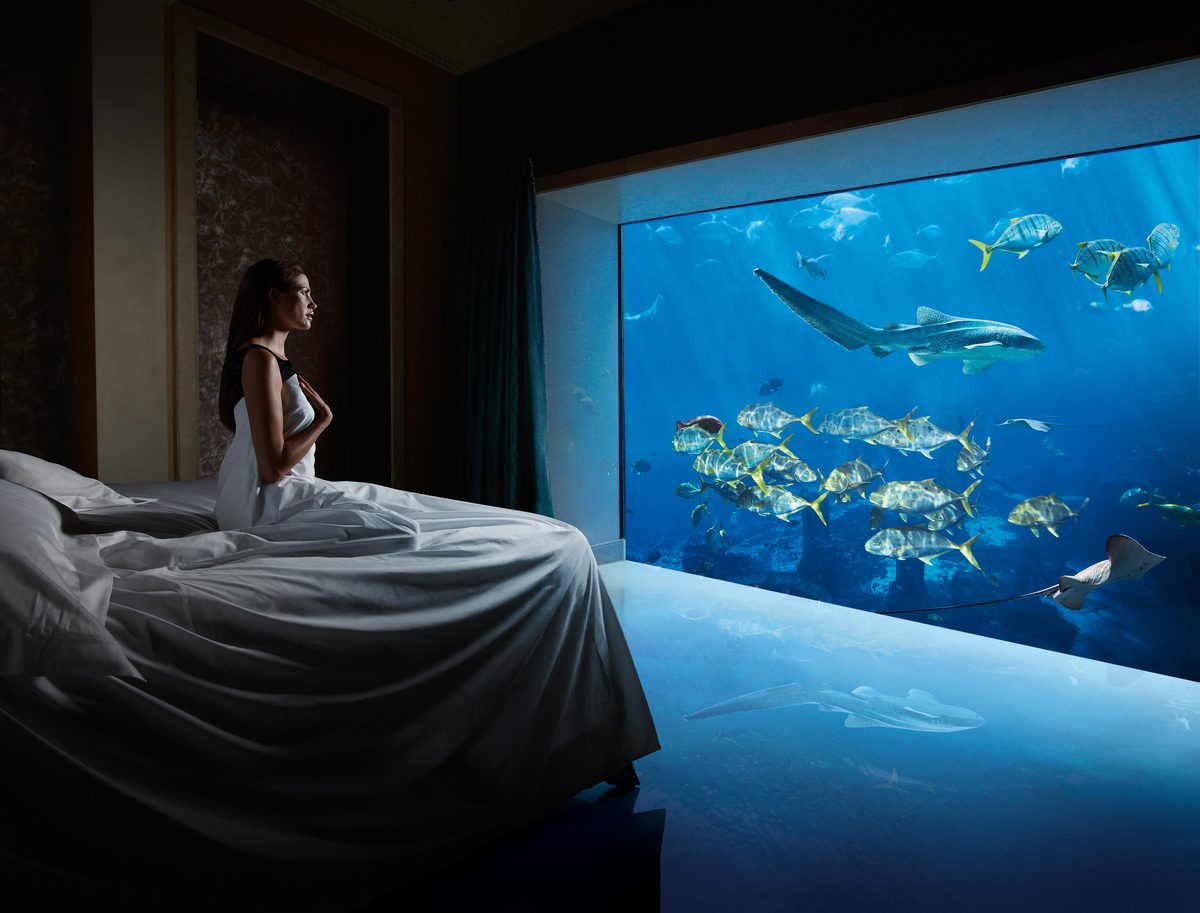 No list of underwater hotels would be complete without mentioning the Manta Resort on Pemba Island, Zanzibar, Tanzania.  An extremely lavish retreat, this private and extravagant hotel floats in a lagoon that is only reachable by speedboat. Set over three levels, all of which are only accessed by whoever checks in, the 360 degree views of the reef fish and their predators make for the perfect place to play a game of tropical eye-spy with your significant other. With a three night minimum stay, prices per night start from $1,700.
Are There Any More Affordable Underwater Hotels?
Simply put, yes! You don't have to be a billionaire to experience a night in the oceanic deeps.
The Utter Inn on Mälaren Lake, just outside of the Swedish capital of Stockholm, is not as ostentatious as some underwater hotels, consisting of a single traditional cabin "floating" on the lake with a single room beneath the water. However, this twin room provides a considerably more affordable option for those looking to experience an underwater weekend retreat without tens of thousands to throw at it. The room here has windows facing all directions and prices start from a much more budget friendly $165 per night.
Another affordable option for an underwater break is at the Jules Undersea Lodge in Florida, USA. A rustic alternative hotel, the lodge will make for a fascinating trip to see all the marine life Key Largo has to offer. From teaching yourself how to scuba to deep diving in the lagoon under the stars, the lodge makes for a perfect couples getaway for around $85 per night.
---
Considering aquatic scenes in the bedroom that wouldn't look out of place in a James Bond movie, will you be deciding to splash out on a room with a different type of sea view anytime soon?
Team hoo.